VPN
PureVPN Review & Rating
PureVPN
Pros
2000+ Servers
Very cheap cost
Torrenting 100% allowed
24/7 support
Good speeds
Cons
No free trial
7-day money-back guarantee comes with restrictions
Apps have many issues
DNS Leaks
Sluggish Speeds
Why Choose PureVPN
PureVPN is a Hong Kong-based provider that's been in the VPN business since 2007. With ten years of experience, it's no wonder the company offers an impressive server coverage – 141 countries, 180 locations, and 750+ self-managed servers. Do note that some of these servers are virtual. There are no third-parties involved and the provider doesn't log user activities. All servers support OpenVPN, L2TP/IPSec, PPTP, SSTP, and IKEv2. Considering Pure VPN often pops up as a highly-recommended provider, I had to give it an unbiased look myself.
Pricing and Plans
First off, Pure VPN is not the cheapest kid on the block, with $10.95 monthly plan, and $69.72 annual subscription. The best deal is the 5-year subscription that comes down to $1.65/mo, or $99 total.
Pure VPN supports a broad range of payment methods – credit and debit cards, PayPal, Alipay, a gazillion of options in Alipay, Cashu, as well as CoinPayments including Bitcoin, and gift cards.
All plans come with a 7-day money-back guarantee, but mind the restrictions – you can't use more than 3 GB data or have more than 100 sessions to be legible for a refund. Also, payments made via Bitcoin and gift cards are non-refundable.
Pure VPN doesn't offer a free trial. Instead, you can purchase a 3-day subscription for $2.5 to test the ins and outs. If you ask me, that's better than subscribing for a month just to try a service.
Pure VPN Server Locations
When PureVPN began operations back in 2006, they had only two servers. With more than a decade behind them, they now advertise that they have more than 2,000 servers that are found in more than 140 countries.
Their VPN server locations include North, Central and South America along with Africa, Asia, Europe and Oceania. This is a fairly impressive spread, which is a mark in PureVPN's favor. However, it is advisable to note that they are headquartered in Hong Kong. Thanks to the increasing strength of China's influence in the region, this isn't necessarily the most advantageous location for the home office of an online privacy provider.
China's online policies are notoriously Draconian, which is why many of its citizens wouldn't dare go online without benefit of a VPN. The country's government is seeking to place increasing restrictions on VPN providers and ban those providers who fail to comply. Hong Kong does enjoy special legal status that gives it autonomy from many of China's more repressive laws, but it is a murky situation that may adversely affect the privacy of PureVPN's customers at some point.
Having said that, it also is worth pointing out that PureVPN doesn't necessarily have physical servers in each of these 140 locations. In many cases, the company uses virtual servers instead. These servers are defined by software. Essentially, a single physical server can house multiple virtual servers, making them appear to be housed in diverse locations. Users who want to be certain about where their data is being routed may not like this feature.
PureVPN Speeds
Whether you want to torrent, stream, or just browse, it's crucial that your VPN offer high-speed connections. It's normal to experience some speed loss, because your data has to travel farther to reach the VPN server. However, the difference should be barely noticeable with a premium VPN.
When determining the speed of an internet connection, we measure three things:
The download speed is the rate at which you can pull data from a server to your device. The higher this number is, the faster your internet connection will be. This is measured in megabits per second (Mbps).
The upload speed is how quickly you can send data from your device to others. The higher this number is, the faster you'll be able to send files and upload data. This is also measured in megabits per second (Mbps).
The ping is how long it takes your connection to respond after you've sent a request. The lower this number is, the faster your connection will be. This is measured in milliseconds (ms).
During my analysis of PureVPN, I measured my speed while connected to a local server and to a server in the US. The usual assumption is that connection times to a local server are quicker, because the data has less distance to travel.
My speed before connecting to PureVPN was 12.49 Mbps download, 0.91 Mbps upload, with a ping of 34 ms.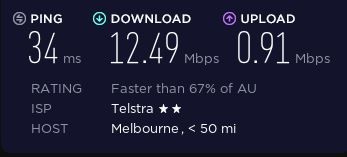 When I connected to my local PureVPN server in Australia, my download speed dropped slightly to 10.75 Mbps, and my upload speed dropped to 0.85 Mbps. My ping increased to 76 ms. I didn't notice any speed difference.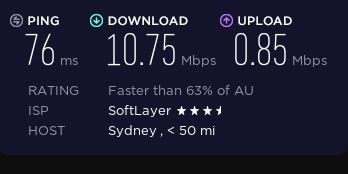 However, when I connected to a US server, my download speed plummeted to 3.78 Mbps. My upload speed actually increased slightly to 0.87 Mbps, and my ping increased to 216 ms. This was still fast enough to stream in high definition, but my connection definitely lagged.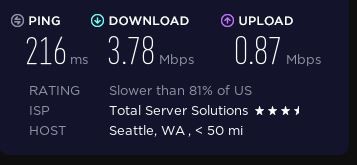 Is PureVPN Good for Torrenting?
Yes. PureVPN supports P2P file sharing. In fact, it offers a dedicated torrenting profile and specialized servers to ensure that your P2P connection is as fast and secure as possible.

Security – Is PureVPN Safe?
PureVPN offers reliable security protocols, but its no-logs policy came under fire in 2016 as a result of its involvement in a criminal investigation.
The upshot is that while PureVPN advertises some decent features at a competitive price, it doesn't always deliver as promised. With slow speed, poor customer service and unreliable performance, it makes sense to look for the best VPN elsewhere.
If you're still looking around, we've made a list of the best VPN services 2020 has to offer. We've done the research for you, all you need to do now is look at the creme de la creme of all VPN services.